Page 6 of 9
IHCC (Intelligent Highway Cruise Control)
(Manufacturer's option on Absolute)
The millimeter-wave radar with excellent weather resistance located in the front grille to measure the distance between the car before running in the 100m range forward, angle of 16 degrees, by detecting the state of the vehicle traveling speed by using sensor and yaw rate sensor. Similar with normal cruise control, additional features to keep the speed set is possible by automatically control the vehicle speed by detecting the presence or absence of the car in front of the same lane.
■ System configuration of IHCC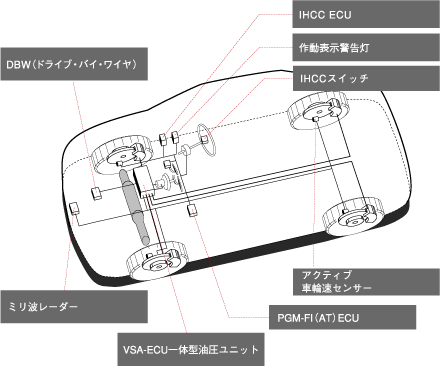 Multi Information Display
 (Manufacturer's option on Absolute)
 Included in the display in addition to IHCC and CMS Statuses, are various warning messages.
The main 
display item
Operating status IHCC
CMS operating status
And warning messages
Display cases
Display contents
-State system 
and set vehicle speed 
vehicle and set 
existence before-propelled car 
alarm, vehicle
Status and system 
status and alarm setting 
(in 5 seconds off) 
alarm · CMS
Sub-message 
warning the various
Honda HDD Navigation System with Rear Camera and Voice Recognition
 (Manufacturer's option on M,L and Absolute)
| | |
| --- | --- |
| The Honda Navigation System adopting an 8" large display monitor.Taking advantage of high speed processing and large capacity hard disk, this is a system with navigation aide and voice recognition features. Included are the Sound Container to store music. | |
Rear Entertainment System
 (Manufacturer's option on M,L and Absolute)
Dedicated 9" retractable display unit with a dedicated TV and DVD player. Included with the package are two wireless headphones supporting 5.1 channel audio, with remote control.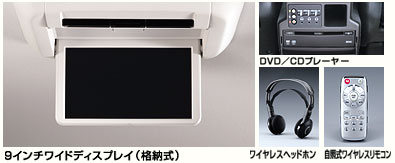 Acculief Premium Sound System(with in dash AM/FM tuner CD Changer + 7 Speakers)
 (Manufacturer's option on M,L and Absolute)
| | |
| --- | --- |
| Premium quality speakers and a sub woofer (50W × 5ch) 250W power amplifier utilizing Linear Amplification Power Transistor technology | |
Rear Camera System
 (Manufacturer's option on M,L and Absolute)
Rear Camera with Guidelines assist drivers for rear view parking situation. In addition the camera is housed neatly in the tailgate garnish.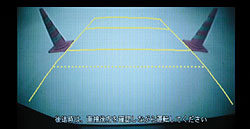 Honda Smart Card Key System
 (Manufacturer's option on M,L and Absolute)
Standard Keyless Entry with immobilizer which could be operated to open doors and luggage compartment.
[Unlocking the door.] sensor detects the inner door handle and holds the door handle. Unlock the authentication ID in an instant. [Locking the door] down from the car and lock automatically when closed the door away from the area authentication. [Ignition operation] ID authentication is performed by pressing the knob on the ignition switch. You can stop / start the engine as well as the normal key.
■ Honda Smart Card Key System certification area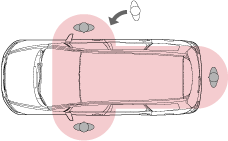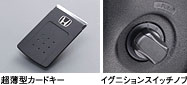 Heated Windscreen
 (Manufacturer's option on M,L and Absolute)
| | |
| --- | --- |
| Windscreen heaters removes snow and ice from the wiper with a 15-minute timer which automatically turns off after activated. | |
Raindrop Detector
 (Standard on L)
| | |
| --- | --- |
| Infrared sensors detect raindrops which controls the wiper speed automatically based on the amount of rain fall detected.You can also adjust the sensitivity on the volume dial on the wiper lever. | |
Water-repellent glass / door mirrors + Heated front door hydrophilic
 (Standard on M,L and Absolute)
| | |
| --- | --- |
| To ensure clear vision, the glass door and water repellent door mirrors have built in heaters to overcome haze build up. | |
Automatic light control
 (Manufacturer's option on M,Standard equipment on L and Absolute)
| | |
| --- | --- |
| Automatic lights detects environmental brightness which aided the driver during driving. | |